Future fundraisers on the road
Sibelius Academy Arts Management students took over New York in September
The class of Art management Master's degree students got an amazing opportunity to organise a study trip to New York City. After months of planning and fundraising, we finally got all that it takes to enjoy our visit.
- The trip to NY was a great experience for me. It is a very active city. We had the chance to visit very important organizations and have learned their way of working", said Susan Togra, one of the participants.
The main idea was to see how institutions overseas operate, create their budgets, attract audience and most importantly fundra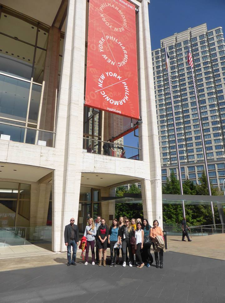 ise.
- What I am most impressed by is the commitment of organizations in New York towards the community. They are aware of their social responsibility and try by all means to engage with people. There is a lot to learn from them, explained Marta Medico.
We visited eight different institutions from various art fields. The journey begun at American Ballet Theatre and Finnish Institute. Day one was quite hectic, but the excitement overcame exhaustion and jet lag.
My personal highlight arrived already on the second day, when we joined New York Philharmonic at their morning rehearsal. The programme offered Mahler for classical music lovers and Unsuk Chin for those interested in contemporary pieces. After the rehearsal, we greeted the soloist Kari Kriikku in the conference room. Mr Ted Wiprud and his lovely assistant Deborah took a wonderful care of us. Ted told us about their educational work and how this mission helps to raise funds for the whole orchestra.
- For me, with an interest in audience education, it was exiting to notice how the organisations consistently emphasized the same facts: fundraising and audience education go hand in hand, shared Milka Jafri.
The open discussion enabled us to find out more about our own personal interests.
We created the schedule in a way that everyone got personal time in 'Big Apple' to explore and visit various cultural events around the city. Our Wednesday meeting with Lincoln Centre representatives fell through in the very last moment due to unexpected event tasks of our hosts. It was quite unfortunate, however, provided us with a free day to look around the city. In the last minute, our tutor Patrick Furu found a fundraising seminar at Manhattan School of Music we were allowed to join.
On Thursday, New York Academy of Art invited us for lunch and round table discussion. They showed us their spaces and art work of three best students of last year. In the evening, majority of the group attended a Broadway show Sleep no more.
Guggenheim puzzles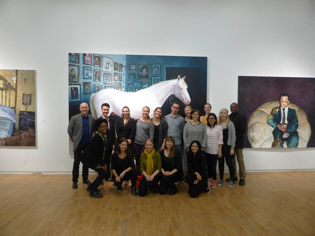 The most awaited visit found its spot on Friday morning. After analysing the case of Guggenheim Helsinki in almost every course, we were finally at their headquarters, ready to find out what lies beneath the project that has been haunting us for a year. I am not afraid to say that we were quite puzzled to hear their views and expectations. At times it felt like they were talking about a different project, not the one we have been served from media.
In the afternoon, we visited Dance Theatre of Harlem, the institution from another case study of ours. Free weekend carried the cultural essence as well. Apart from sightseeing and shopping, we visited few art galleries, jazz concert, Dumbo Art Festival, Broadway musicals and even a baseball game.
Our final day gave a perfect dot behind our trip. We visited Mrs. Naomi Levine, scholar of New York University, at her residence. To be honest, we had no idea that we were about to meet a fundraising superstar of the country. Enlightened and inspired by lots of stories and advice what to do and what definitely not to do, we concluded the agenda of our trip and headed back to Finland.
- To sum up, the trip gave a lot of reasons to be inspired and exited. Even though the structures and mentalities are different when comparing Finland and the US, we can still find ways to implement a fundraising culture that fits the Finnish state of mind, commented Milka Jafri
- As international arts manager students, I believe that these types of study trips update our knowledge and enrich our experiences in our career, added Susan Togra.
We would like to thank to everyone who helped us on the way while arranging the meetings and specifically to Sibelius Academy for this wonderful opportunity.
Text: Eva Cervenkova